Bar One Racing
10 September 2015
Bar One Racing comprises a twenty shop retail estate with its headquarters based in Dundalk, Republic of Ireland. In the past eighteen months a number of bookmakers have investigated replacement screen systems for their shops. Embracing the economies introduced by new technologies Bar One Racing has grasped the opportunity to make sweeping changes to their business. They elected to run their own studio; a complex and expensive undertaking which had previously been unaffordable to most bookmakers of their size. To achieve their aims they would need to offset the costs against the provision of a bureau screen service to bookmakers willing to pay for Bar One Racing prices, templates and screen marketing collateral.
The Risks and Imperatives
With no prior experience of running a studio its staff would be under pressure to gain expertise quickly. Any new system had to be easy to learn and be operated efficiently in a short time frame to meet the company's aspirations.
If studio resource costs were minimised it would help Bar One Racing to offer a service that was both affordable and attractive to bureau clients taking their service. Bar One Racing embarked on a campaign to encourage small bookmakers to consider a bureau service provided by an Irish bookmaker for the first time ever. Their mission was to provide independent bookmakers with the best service, one that exceeded customer expectations.
Bar One Racing required complete control over template design with the capability to generate their own quickly and efficiently. A system employing generic templates would neither have impact nor provide shop customers with the wide selection of markets and special offers they had planned. From the outset they expressed that for the service to be effective and engaging it had to be dynamic and flexible.
A level of business continuity has to be maintained and is especially important now that other bookmakers have signed up to be customers of Bar One Racing. To this end the central servers have been located on the cloud. Whilst cloud technologies are expensive they offer high levels of support and disaster recovery should a major problem develop. Confidence in the system is reinforced through minimised risks.
Why choose BIDS5?
BIDS5 invokes many automated features designed to release the studio operator to monitor the system and stimulate interest in other revenue generating markets. For instance the 'Next Race To Go' automation runs uninterrupted throughout the day. This automation provides studio staff with the freedom to concentrate on derived markets. These include Top/Middle/Bottom, Inside/Outside and betting markets 'Without the Favourite', to name but a few.
For many years Bar One Racing has provided marketing for their screen displays but had no experience of operating a racing studio for their shops. BIDS5 provides countless branding opportunities for Bar One Racing to bespoke their displays and offer enhanced coverage of Irish events. Adopting BIDS5 gave Bar One Racing the capability to design and implement their own templates and the capability to cover more of the events they wished to show, avoiding the 'vanilla' service provided to other bookmakers. This was a step-change and it was important that staff could easily assimilate the system to provide the necessary service to their own shops as well as their clients.
The Technology
BIDS5 interfaces with SIS and Turf TV, A Bet A and Arkle EPOS systems. RSS and even social media feeds can be implemented to provide a thoroughly immersive experience that customers appreciate and enjoy. BIDS5 provides extensive tools and the scope for users to tailor their systems for maximum effect.
The £500 conversion kit transforms the old shop server to drive twenty VGA screens. The original hardware and screens are preserved making the process cheap and quick. An easy upgrade path has also been designed; this replaces the existing in-shop pc with a new system designed to manage up to six HD large format screens in the future (equivalent of 24 old CRT screens).
Heather Glenn – Bar One Racing said; "The capabilities of the BIDS5 system are at the forefront of technology and will serve us well as we expand our business and develop the services we provide to other Independent Bookmakers as we move forward."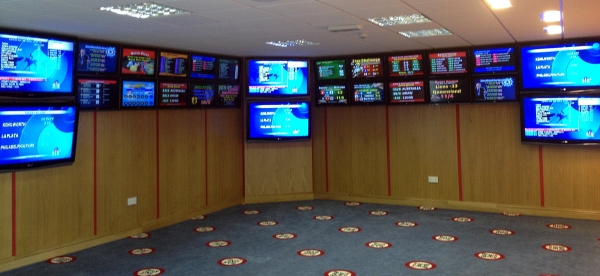 The Roll Out
An implementation of this significance has a direct bearing on the success of the company. But it also requires key personnel from Bar One Racing and MRG to be fully supportive and aware of each other's roles. The staff at Bar One Racing had little IT or project management experience but it is a testament to their professionalism that they reacted quickly to the needs of the project and embraced the new technology.
Barney O'Hare – Bar One Racing said; "Naturally with any new equipment and technology there is a period of bedding in for all concerned, this was quite a change in work practices for the Head Office Team, and required a much more hands-on live approach. This is very different to our prior working practices, but welcomed by the team when they saw the potential of being in total control of the screen service. Because of the great service and warm reception we received from MRG on each visit, even though we are a small company, we were treated with great respect and our business was appreciated and sought after, this was a strong influencer on our decision to work with MRG and BIDS5."
The well prepared team worked closely together and involved representatives from both companies. Solid support from MRG Systems was provided through regular on-site visits made for a period of over three months straddling the installation period. This was assisted by Enda Mahon of Mahon Multimedia who was tasked to implement the shop conversions. The twenty shop estate was transformed over a five day period, initial glitches were addressed and thereafter everything went smoothly.
Services to other Bookmakers
Bar One Racing are currently offering a fully managed screen service to other Independent Bookmakers throughout Ireland. This service has been received very well, the customer base is growing and a further one hundred shop conversions are in the planning. As at June 2016 there are over 230 shops using the service.
There is no reason why Bar One Racing cannot provide a service to UK based independent bookmakers. BIDS5 handles clients dependent on their group so a UK based group is a very simple matter to set up and maintain.
Heather Glenn; "We are seeing business stabilisation and in some areas business growth via increased market share, which is great and can only improve as we continually enhance our offering."
Support
There is backup support during trading hours which provides back up and emergency support over the phone, and via remote access to all shop systems. MRG has worked hard to ensure the service is maintained during business trading hours.
Future plans
Heather Glenn; "Bar One Racing will provide an admirable, competitive, compelling service for the Independent Betting Industry which will ensure we compete well in the market, providing customers with a compelling offering. We want to help ensure every office receiving our service is a great place to be from a customer's perspective. Bar One Racing's objective is to provide a service to Independents that competes with the top high street brands."
back to case studies