Retail
Enhance the experience.
Show your strongest sales message, to every customer, in every store.
With LiveSpace in-store you can…
Signpost customers to different parts of the store
Create special purchases and seasonal promotions
Clear slow selling products with time-limited offers
Update prices and match competitor promotions without waiting for printed POS
Manage regional campaigns
Let local managers choose promotions best suited to their customers
Use live data such as availability and pricing from back-office systems
Share your social media feeds
Retailers especially love these big LiveSpace benefits…
Scheduling lets your offers change with the hours of the day and the seasons of the year. All planned in advance and automatically deployed on screen when the time is right.
Grouping with LiveSpace lets you zone your content the same way you'd merchandise a store. People in different areas of your shops will see the right messages for them.
Regionalisation lets you show content tailored to geographic areas. So, if you know that your customers' tastes differ by region, display content which is right for them.
Localisation lets head office create and manage a list of promotions, so they are always on brand. Local managers are then free to choose the best offer for their local audience.
Call 01453 820 840 today
or email hello@livespacesignage.co.uk
to arrange your free LiveSpace trial.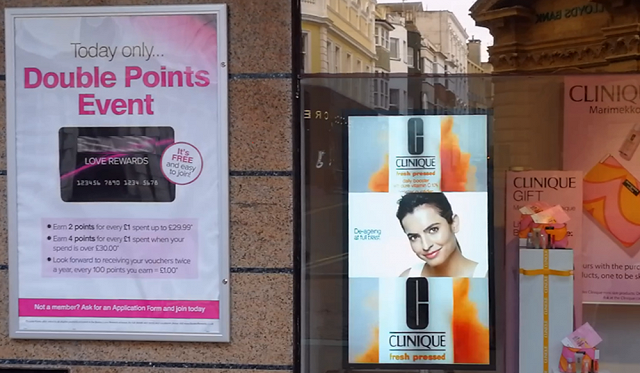 more in this section