education
Inspire, Engage, Inform.
Deliver engaging content to your screens.
With LiveSpace you can…
Communicate effectively with colleagues, students, parents and visitors
Share good news stories and achievements
Create slick, dynamic, eye-catching displays and schedule them in advance
Use video walls to create a compelling, immersive experience
Update information quickly and display new content instantly
Easily manage your Covid-19 messaging, changing and updating them as required
Potential to use data from back-office systems
Add multiple users at nil cost
Managed service available on request
Other useful features to help you manage your screens
Scheduling lets your content change with the hours of the day and term times. All planned in advance and automatically deployed on screen when the time is right.
Grouping with LiveSpace lets you zone your content. People in different areas will see the right messages you want them to see.
Regionalisation lets you show content tailored to geographic areas. Now you can cater for different schools or satellite premises within your group.
Localisation ensures all centrally created and managed content remains consistent. But departmental managers are free to choose content from the list that best serves their purpose.
Call 01453 820 840 today
or email hello@livespacesignage.co.uk
to arrange your free LiveSpace trial.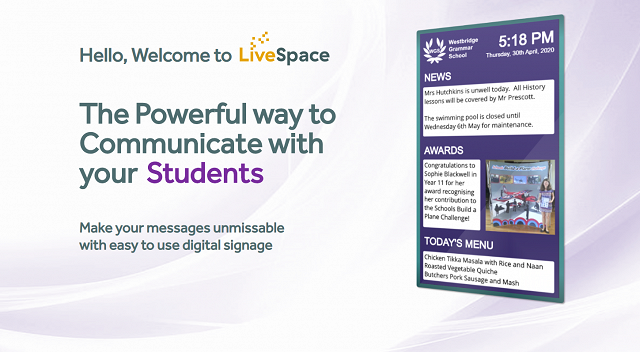 more in this section