Sell more homes with LiveSpace digital signage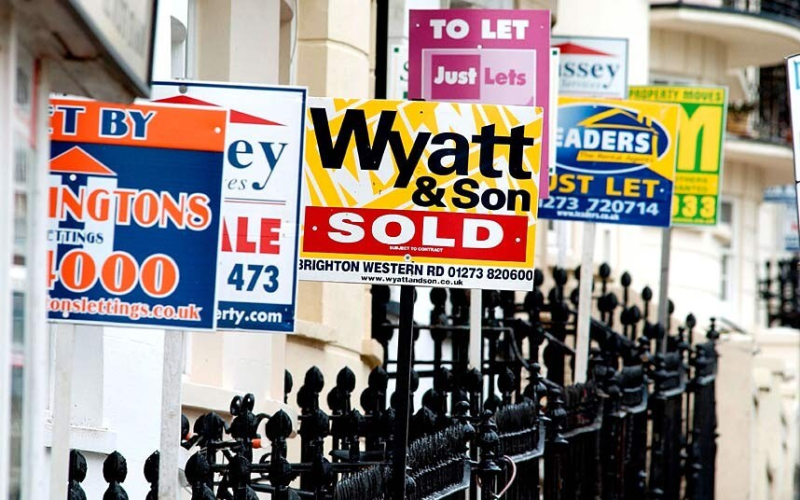 Remember the old way of buying houses?
Homebuyers waited for the weekly printed property supplement in their local newspaper. Or spent their weekend traipsing around every estate agent in town, hoping their dream home was to be found on a window card. Now for many buyers the journey is: Rightmove. Viewing. Offer.
Homebuyers now set foot in their estate agent's office much later in their buying journey than they previously might have done. They skip directly from the online listing sites like Rightmove and Zoopla, straight to a viewing. This makes their first face-to-face contact with you in a vendor's home, rather than in the sales office. All of which means making your window displays work harder and changing the messages people see when they eventually make it through the sales office door.
2020: A bumper year
Whilst many businesses came close to the brink in 2020, lots of estate agents enjoyed a bumper year. Stamp duty incentives increased demand, with homebuyers driven by a healthy reduction in their stamp duty tax burden for a limited period. Covid homeworking also led to more people looking for that perfect space to work from home. And all of this at a time of historically low interest rates.
You may now ask: how you can keep your sales figures going up, when those positive market factors fade? One way we see estate agents building their businesses is through innovative use of digital signage. We wanted to explore what's working well for estate agents, and where their next opportunities might come from.
And, if estate agency isn't your game, we think there are useful insights for anyone working in a person-to-person selling business, which is having to find new ways to work and grow.
All of this can help you sell more quickly
The next question you may have is: what exactly do we mean by digital signage? Well, digital signage systems are screens in your estate agency office and its windows, so you can present more dynamic content to buyers and vendors. Making sales even after your hard-working team have headed home. Gaining more potential buyers is what this is all about.
Screens in your window
With an estate agent property screen in your office window, you can stand out to potential buyers even more, as they pass by. You can show your properties in greater detail, and highlight the best properties you have, even adding video content to help people see how they could feel at home. If it's appropriate for your market, you may also choose to bundle a higher visibility listing as part of a premium package, for which you charge you vendors a higher fee.
High brightness window screens
Gone are the days of hard to read window cards. Even with backlit panels many people find the printed detail hard to see. Much better to have a high resolution, high brightness window screen which automatically adjusts as the light changes through the day. Oh, and people with poor eyesight benefit because images and text are bigger and brighter than on a printed A4 document.
Automated updates
Your screens will automatically update, saving you admin time and printing costs, as well as making sure you always have the right properties on show. As soon as you list a new property it can be set to display in your window and be added to the carousel of your spotlight properties. Our user-friendly remote updates mean that even when your team is working from home, the shop window is always up to date, and your customers will see immediate updates to pricing and availability.
Integrate with your favourite property feeds
LiveSpace will link with your preferred property feed, so there is no double handling of information. As soon as a property is live in your back-office system it can be shown on your screens. There is no need to create new content specifically for LiveSpace. It's a smarter, simpler and more dynamic way to increase your property profile.
Online viewing
Many estate agents have also adapted with live online viewings enabling people to see properties remotely. You could choose to show elements of these live on your screens, or highlights from recent viewings.
Brand awareness
If your property business has a specific focus, such as premium property or the student market, you can show the aspirational side of your business right up front in the office window with appropriate images or a branded video. This helps you build your brand so when local people are ready to go to market, they already know what your business is about, and you will be the first people they contact.
People buy from people
You might also like to show people who they will be working with by adding team member profiles, or by raising awareness of any charitable activities you are involved with or showing support for community events.
Digital signage has a big role to play for estate agents
All of this means that by the time a buyer makes it through your sales office door, they are often past the immediate need to find out what property you have available, and on to other concerns. This means you can use digital signage inside your sales office as a helpful source of additional revenue. You could tell people about the mortgage and personal finance products you can help with. Or you could show advertisements for local property lawyers, removal companies and self-storage firms, who you might have a lucrative referral deal with, or you could charge a small fee for the advertising space, therefore making the screens earn their keep.
Designed to help you sell
Our LiveSpace Digital Signage system is designed to help you sell. With digital screens in your shop windows and inside your office too, you can show off the best properties you have. LiveSpace means buyers are able to see their dream home in greater detail. You can also introduce people to your team and show people why yours is the best brand in town. What's more, LiveSpace is affordable, and as it links to your existing systems it's a doddle to use.
Prices start at just £20 per month
LiveSpace licences start at just £20 per month. Systems can be any number of screens of any size, but to give you an idea we can provide you with a 55" screen, mounting bracket, media player and LiveSpace licence, all for just £35.00 upfront and ongoing monthly repayments of just £60.00.
We'd like to chat about how LiveSpace digital signage can help you grow. If you'd like to find out more, get in touch today.
You can reach us on 01453 820840 or email hello@mrgsystems.co.uk