Think you can't have digital signage, think again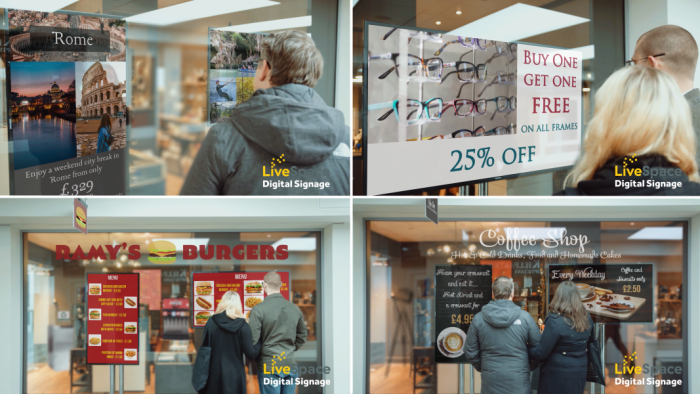 The hardest part of a journey is the first step. That's why lots of people think about digital signage, but fail to cross the start line, believing there is a technical hurdle on the road ahead they won't be able to clear.
We wanted to find out more about the technical reasons which make people think digital signage can't work for them. To get to the truth we spoke with our office based technical team of software developers, and our field-based installation team. This is what we learnt.
"I would like outdoor signage but it rains a lot here."
Whilst us Brits seem to talk of little other than the weather; the reality is if you're reading this in the UK, there is nothing our climate can throw at a properly specified digital signage system it won't be able to handle. Digital signage works from Angola to Alaska. So trust us Aberdeen; we've got you covered.
"It's really sunny in my shop, it'll be too hard to read the screen"
Lucky you. Bask in that sunshine and let us take care of your screen specification to make sure your content shines bright. High brightness monitors are now surprisingly affordable, and with auto brightness sensors which continually adapt to local conditions, so your display is always just right.
"I have a listed building; we can't just start hacking holes in it."
With wireless technology and miniaturised control modules there is always a discrete place to hide a LiveSpace system. The only 'big bit' is the screen itself, and if you can hang a painting, we can fit a screen. Trust us. We're the people who put digital signage into the Houses of Parliament. If we can do it there, we can do it for you.
"My broadband and Wi-Fi are unreliable"
If this past year of endless Zoom meetings has taught us anything, it's that not all of us are blessed with superfast broadband, or dependable Wi-Fi. But all is not lost. Even if you dwell in the dial-up dark ages, LiveSpace can work for you. Whilst most people choose the convenience of the cloud, we also have locally hosted systems which can work without constant connectivity.
"We're open 7 days a week, can you fit an installation around our opening hours?"
Our installation team work around you. That often means working through the night so that your customers won't notice a thing (apart from your brilliant new digital signage). We always work tidily too, so you can look forward to opening on time.
"I don't have a power supply where I'd want my screen"
This is an easy one. Provided you have electricity to your property we can get it to your screen. Regardless of the property type, or even listed building status, it can be done.
"I tried digital signage before using our old TV, but it kept going off after a few hours."
To the untrained eye digital signage monitors do look like standard TVs. But there are some critical differences, chief amongst them the ability to run longer, even up to a 24hr continuous rating where it's needed. They also do away with power down features which can be more hindrance than help. What we offer instead is the ability to fully schedule your content. You'll never have to remember to turn LiveSpace on or off, it can be programmed ready to work at the right time, every time.
"I don't feel computer savvy enough to manage digital signage."
It's a popular misconception that digital signage is difficult to manage. But fear not, our technical team works hard so that LiveSpace is easy for you to use. However, if you still don't feel confident you can always outsource your system management to us here at MRG Systems.
"I don't have the time or skills to design new pages for my digital signage."
No Picasso? No worries. LiveSpace comes with an easy-to-use design module which lets you get creative with minimal effort. If you've ever made a PowerPoint, you can make LiveSpace work. But if that's still not your bag you can always give the design work to your favourite graphic designer, or we can recommend one to you.
"I am worried that the screen may go down, and I won't notice."
We've all seen it. The blue screen of doom. That 'computer says no' moment which leaves a blank screen, and baffled onlookers. Thankfully that situation is a thing of the past when we remotely monitor your LiveSpace system. And if your screens ever do go blank, we'll scramble to assist and get you back up and running in a jiffy.
"What if we get hacked and have inappropriate content shown on our screen?"
We use best-in-class security to keep you safe. Whatever you do, and wherever you need your screens to work, we can help you operate securely. We're trusted by seats of government, high security prisons, and some of the world's biggest operators on the high street to protect their data.
We believe technical hurdles shouldn't hold you back.
Whatever technical challenges you face, we're on hand to help. From specification, to installation, and ongoing operation; let us help you make the most of digital signage.
Give us a call on 01453 820 840 or email: hello@mrgsystems.co.uk and let's get started.