Using digital signage in an education setting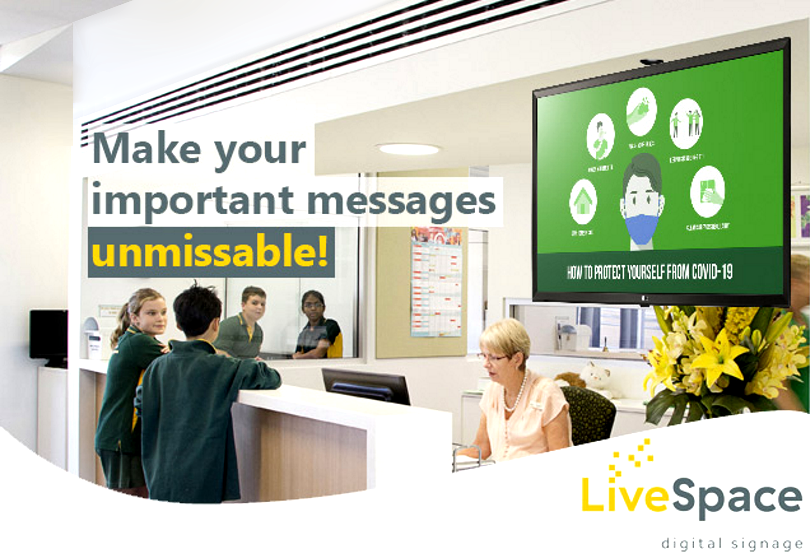 Education was an early adopter of digital signage
Of the many ways we come across digital signage in our lives, it's the education sector that probably uses it in the most dynamic way. Starting with the youngest, image led content through to those in higher education where integrated, automated capabilities from the very best sophisticated solutions are required.
The education sector was an early adopter of digital signage, helped along the way by various local and national schemes to enhance communication within every establishments reach. And it has been very successful, I think it's rare to find a school that doesn't now have a screen or two being used for digital signage.
Everything changes
Like all things digital, the landscape has altered considerably, especially recently and you want to feel your screen systems software has kept pace too! If your existing content management system feels clunky and slow, then you might want to consider LiveSpace digital signage. LiveSpace has been written using concepts like the minimal-step navigation we are familiar with on our mobile phones. It utilises an easy workflow design which quickly steps you through to an obvious end point.
The clean, uncomplicated dashboard design make the system user friendly and rewarding to use. So easy, that minimal training is needed to bring new users' up to speed in the day-to-day running of the system. The advantage here is that it can be a joy to use rather than a pain point to be sidestepped. To do this we adopted similar techniques used to create the familiar digital applications we all use on our desktops and mobile phones. If, from the very outset it feels like an application you've used before, then it's easier to adopt because the learning process is already shorter.
This is what our clients say. "We've found the system easy to use and very flexible. It takes no time at all to make content available for display. The speed with which we are able to generate pages of information and share them throughout the campus is impressive."
LiveSpace is a full-featured package
There's a high likelihood you know exactly what you want to achieve using digital signage. LiveSpace is a full-featured package. Things like video streaming and the back-end structure required to automate the display of data from third party systems have been designed into the system, making them available for everyone to use, and no need to purchase a new software module.
Because of the large number of software applications available and the many different ways of presenting information, it still requires work on our side to display the information you want. Our team will extract the information and create what you want, in the way you want it presented. The costs remain at affordable levels because once we have a clear set of requirements, we can usually configure it pretty quickly.
Cost effective and affordable
Speaking of costs, the licence for a two screen LiveSpace digital signage system at a single site costs only £300 per annum. A ten screen system costs just £780 per annum. With the price of media players costing from £100 for an entry level unit and up to £320 for a top end player, a new system could be up and running within days.
Additional charges are made if you purchase a managed system, where we manage the screens on your behalf.
If you want to know more, we'd like to hear from you.
You can contact us at hello@mrgsystems.co.uk or call 01453 820840 and we'll be delighted to discuss LiveSpace digital signage in more detail.