LiveSpace sports betting system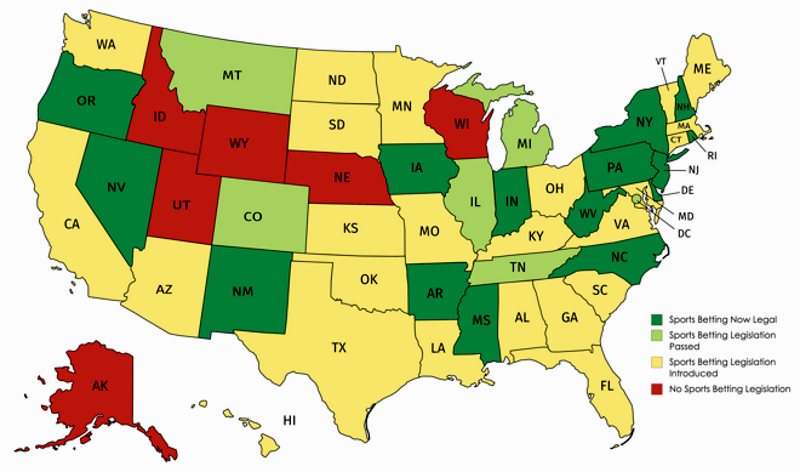 Sports betting in the United States, January 2020 (created with mapchart.net) Source: Pokernews.com
Betting on sports is a growing industry, with many new companies emerging through the launch of on-line or app-based products. There are now so many new entrants and established companies that differentiating between similar products is tricky, after all we're all betting on the same events.
American sports betting markets
Whilst sports betting is growing throughout the world, the greatest growth in sports betting is currently concentrated in the USA. The map illustrates states in green where sports betting has recently become legal. States in red do not currently allow sports betting, but this is expected to change. It is widely recognised that the UK has one of the most mature, regulated betting industries in the world. These high standards have also produced some of the biggest and most innovative racing and sports betting companies too.
LiveSpace sports betting LiveSpace Sports is the new product from MRG Systems, a UK based company who have been providing services to the betting industry since the mid 90's. With over 30,000 screens managed by their systems, MRG has immense experience and knowledge that you can rely on for superior solutions.
The new LiveSpace Sports screen system manages how you display your markets in a variety of locations on digital signage screens and video walls. The system is cloud based, making it possible to operate from anywhere with an internet connection. Live data and odds prices are automatically fed into a database which populates the templates, showing the information on designated screens.
The variety of possible displays allows:
The display of multiple markets for a chosen event
Display a list of events with match bet (or similar) odds – similar to a paper coupon
Highlight a chosen bet to encourage participation – perhaps Brady to throw 3 touchdowns?
Display video or static marketing content, advertising how to download the app or upcoming events and specials
Easy to use tools to create brilliant displays of live prices and sporting action
The LiveSpace Sports interface allows easy creation of pages for display, including those with live odds, so you can react instantly to situations as they develop during the game. LiveSpace has a variety of tools which enable the creation your own dynamic, in-game specials. Coupled with smart tags, automated playlists are easily created to promote and advertise any event you want.
The ability to zone content means that games of special interest in certain areas can be prioritised. For instance, there is more interest in the Cubs in North Chicago than there is in the White Sox. LiveSpace Sports makes it easy for the right content to be displayed on the right screens in the right locations.
Get in touch
If you would like to know more, we'd love to hear from you. You can contact us at hello@mrgsystems.co.uk or call +44 (0)1453 820840 and we'll be delighted to discuss LiveSpace Sports in more detail with you.