Digital display localisation: maximising ROI or maximising head office headaches?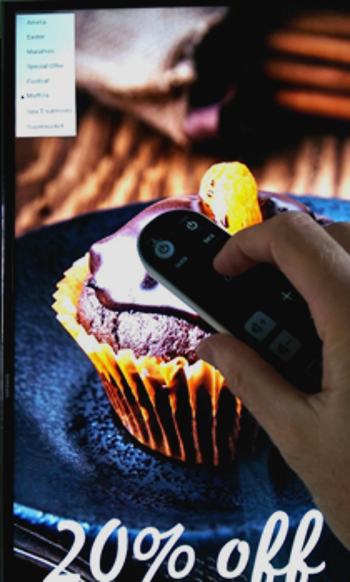 We've all seen it. The "manager's special". Hastily created and pinned to a wall, either helping clear stock, or clumsily attempting to tap into interest in a local event. Created by an enterprising local team member, the manager's special means well. Sadly, it also runs roughshod over your painstakingly created brand guidelines in the process. If you're lucky it'll be hand written, at worst it'll unleash the full horror of a comic sans typeface along with a comically squished low-res logo.
So, can this age-old problem faced by brand managers since the dawn of POS be fixed? Can you balance necessary head office brand policing with entrepreneurial local knowledge? In retail this is likely to be a brand team wanting to roll out unified promotions nationwide, whilst at local level, experienced store managers know more about their individual customers than head office ever will.
The challenge of course is to give the flexibility to enable local teams to spot and respond to opportunities, whilst at the same time keeping things on brand.
Throw away the felt tip pens.
Let those local managers choose from a well-designed set of promotional offers and instant POS, which will keep your customers coming back, and your tills ticking over. Here at MRG we've made localisation one of the key features in our LiveSpace system.
Localisation is a centrally managed feature which lets local managers choose the promotion they believe will work best in their individual shop or unit.
Head office create and manage a list of promotions, so they are always on brand. The local manager chooses the one they want in response to who's in the shop, what the weather's doing, or whether the local sports team won or lost that afternoon.
It's all about reacting quickly to the reality on the ground. Screens at each location can be designated to display the local offers, whilst other screens continue to show your nationwide standardised content.
So, what does this look like in-store?
Fast-food restaurant managers might display a promotion which helps to increase sales of a higher margin meal based on local tastes. Coffee shop managers might choose to promote older stock based on their own local inventory.
Betting shop managers might respond to local sports events with special odds. Travel agents might react to the local weather to encourage people to come in and make a booking.
Want even more localisation?
With LiveSpace's local overrides you can get things even more personalised in-store for your shoppers.
Whilst all your collateral and templates are managed from head office local managers are provided with a control interface that can be accessed via a unique username and password. A local manager can have more control over their own display, or a group of displays in their unit. This gives the local user the option to override certain contents on their displays and to manage special offers and promotions. The local data is combined with the rest of the template to provide the final page to be displayed. Just a few of many possible uses for local overrides might be:
Setting a local price for a special offer.
Changing the name of the manager on duty.
Advertising a local winner of a competition.
How can you make sure it pays back?
Of course, you'll need to make sure that the systems you use and the money you spend are wise investments. Trusting local teams to manage things is all well and good, but it must make commercial sense too.
Integrating your data from LiveSpace and your existing EPOS or management accounting systems will let you see the impact that local screens can have.
You might want to create a league table. Incentivise top performance and learn from what the best do well. At the same time offer support and guidance to stores whose performance needs to pick up and share knowledge with them from your better performing branches.
Localisation will benefit you in lots of ways.
With localisation your customer is made to feel at home with appropriate offers which make sense to them. Your in-store teams feel trusted to make the right choices for their customers. And your financial results will be on the up as people continue to spend with the local businesses which understand them best.