The Bookmakers Trade Fair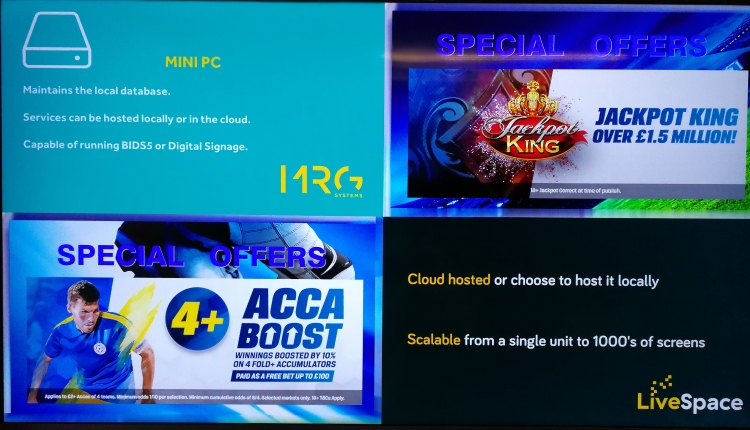 Cranmore Park Conference Centre, Solihull 26th October 2017
The Bookmakers Trade Fair is designed to provide Independent Bookmakers in the UK with the opportunity to experience some of the latest developments taking place in the industry. Suppliers of software systems, screens, gaming machines and terminals to furniture, security and printing services will all be represented. All regulatory bodies are on hand to discuss procedures and the latest changes within the industry. This includes the Gambling Commission to industry organisations such as IBAS, GAMCARE and the ABB.
We will be showcasing the latest developments and features of LiveSpace digital signage. Now even more dynamic, LiveSpace is more than a digital signage system. We've developed new and exciting ways to display your information. There's no better way to augment your existing screens with a system that adds new features and better ways of engaging with your audience. LiveSpace is agile, its focus is to provide the best in-shop customer experience, anywhere. Easy to manage and capable of addressing thousands of screens, we've incorporated features like grouping and localisation.
Costs start at only £20.00 pcm.
So, if you would like to discover more about LiveSpace digital signage and the benefits it offers, we will be delighted to welcome you onto our stand.