Localisation Techniques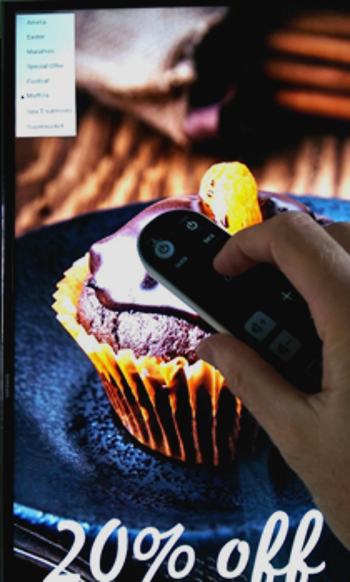 LiveSpace digital signage uses several localisation techniques and we focus here on the features available to shop managers to supervise.
If we use the coffee shop example. We know it to be a very competitive market in which brands need to work hard to generate customer loyalty. It's not like being the only IKEA in town. They need customers who enjoy the special something the brand brings into their lives. When competition on the high street is so fierce it takes the right tools to build and maintain that success.
LiveSpace is a centrally managed digital signage system able to deliver a range of offers and promotions to individual screens across the estate. Local managers have secure access to the content on these screens and can select the best promotion from a drop-down list to suit their particular needs at a time of their choosing. Selections are made with a tablet, mobile phone, simple TV remote control or through a specially designed user interface they access via the internet.
For instance, an 'All day promotion on muffins' can help to reduce wastage. And the 'Free extra shot with every extra-large coffee' will help to drive sales.
Local managers have the ability to react to competition and are given the opportunity to influence sales and improve their unit's performance. These choices are in addition to the routine promotions scheduled for display from head office. Each business sets its own rules. The ability for managers to make these selections is easily managed by head office and can be turned on and off at will to avoid confusion with other campaigns. Because these offers and promotions are prepared by head office the integrity of the brand is retained.