Farm 491 harvests more from digital signage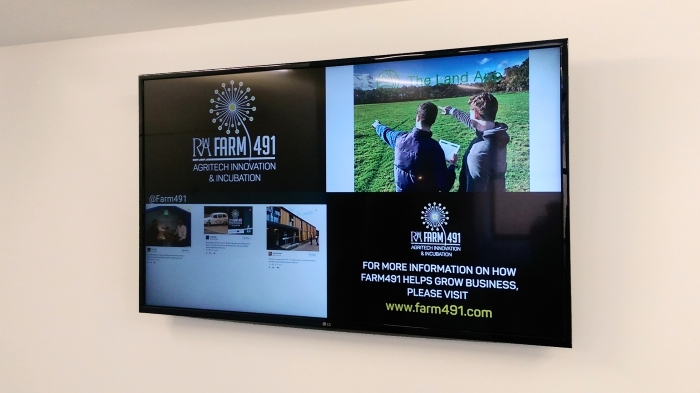 The Royal Agricultural University's (RAU) Manor Farm is home to both the Rural Innovation Centre (RIC) and the Farm491 workshops. Farm491 is a membership organisation offering workshops and flexible co-working spaces to budding agri-tech entrepreneurs in which they can run and grow their businesses. The RIC is a well-established provider of professional rural training to both the public and private sector, with courses delivered to organisations from the Environment Agency, Natural England, and the Wildlife Trust, to local councils, schools, farmers and agronomy companies.
At the end of June, we installed a two screen LiveSpace digital signage system to the farm. With a screen in each building, the RAU is able to showcase both the work being undertaken by the Farm491 tenants and overviews of the courses being offered by the RIC.
One of the features they requested, was to switch easily between full screen and a quad display, as seen in the photograph above. Each element in the quad is independent and treated like the full screen. This means each quad is capable of displaying its own content in a playlist. With a mix of image slideshows, video and Twitter the screens will always display eye-catching content.
In order to enhance the screens usefulness and practicality, work will commence to enable the display of data from back-office systems. The RIC will then be able to display up to date details of courses, their availability and costs in the future.