Meet us at Solihull, Birmingham and Maynooth, Ireland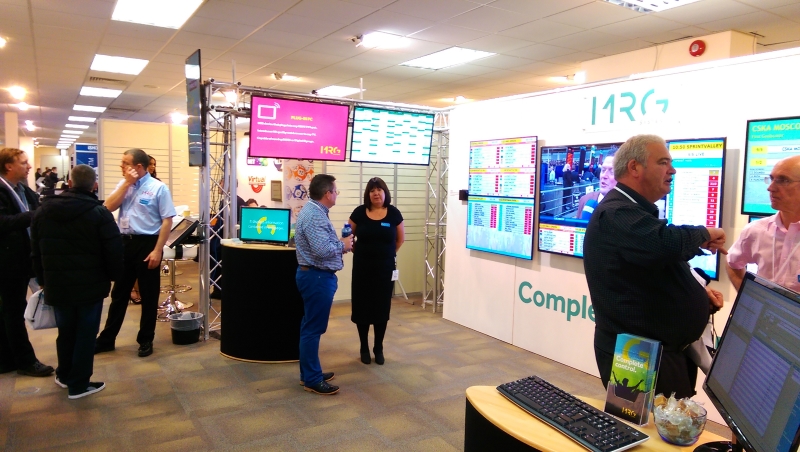 At MRG we have always valued our customer's input into the development of our products. To support this over the next few weeks we will be exhibiting at the Bookmakers' Trade Fair in Solihull (October 27th) as well as holding a forum for our independent customers in Ireland at the end of November.
We always aim to take our latest technologies to shows, and this month's Trade Fair at the Cranmore Exhibition Centre is no exception. Our stand will be showcasing the latest developments in LiveSpace, the digital signage system launched earlier this year, as well as the latest BIDS5 functionality. In particular, the MRG All-in-One or Meeting Summary screen displays horse racing for the day with up to date prices and race/runner statuses including the result when available. The Meeting Summary also includes all the silks for the racing. Additionally, a single meeting screen shows more details for the races at a meeting. Both of these screens interact with a BIDS display, but can be made to interact with any suitable data feed, perhaps from an EPOS system.
MRG is the leading supplier of betting shop display systems in Ireland and we are keen to hear the views of all our independent customers. We are holding a forum at the Glenroyal Hotel & Conference Centre, Maynooth on November 28th and 29th. As well as inviting feedback from customers, we are showcasing the latest products suitable for the Irish independent market place. We will show the normal 20 or 24 screen service supplied by our partners in Ireland with large screens split into quarters. This server is being used in conjunction with the live video screens to provide a 5-over-5 display in many shops. The LiveSpace functionality will also be on display here. We look forward to meeting our Irish independent customers on these days.