LiveSpace digital signage at the Gloucestershire Business Show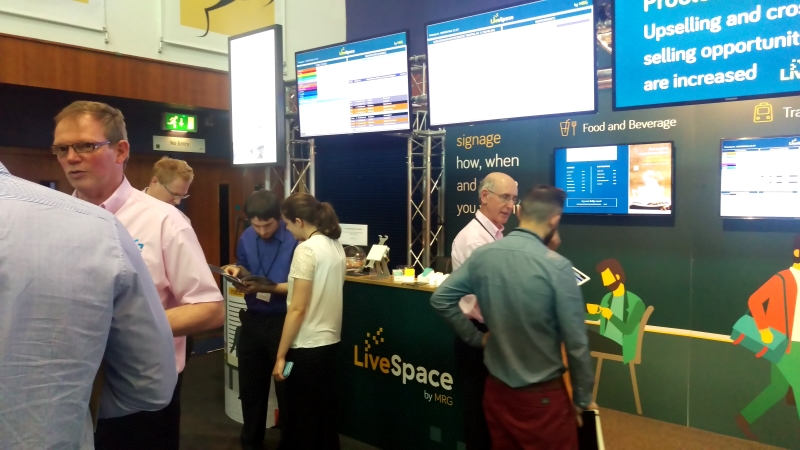 The organisers of GBS16 mixed all the right ingredients together to make a successful and vibrant show. Based on local businesses networking, making first time introductions or re-establishing previous connections the event provided a solid platform for exhibitors like MRG to showcase LiveSpace digital signage to other businesses in the county.
We started each day with a breakfast networking meeting in the Centaur Centre at Cheltenham Racecourse before returning to the stand to prepare it for the day's business. And lots of local business turned up to the show. Some 3,000 delegates visited the event over two days. I'm sure the organisers are as delighted as we are with the numbers and the quality of the contacts we made.
What was clear was that many organisations were unaware of the benefits digital signage brings to their business. In its simplest form it's a welcome screen for visiting clients. But whilst they wait to meet you the screen could also display full details of the great products and services you supply. Some of these products might be new to your audience who are now starting to engage with your message. Imagine if you are a solicitor or insurance company how much additional information you can share with clients and prospects. You will be surprised just how many people will ask to find out more information.
We had a special promotion running during the show for a complete digital signage solution priced at £890.00. The offer included a screen, a mini PC plus a graphic designed page from Third Floor Design to fit your personal branded look. With one year's licence and connectivity to the cloud the promotion offers fantastic value to anyone wishing to take on digital signage for the first time.
LiveSpace is also highly scalable. Some of our clients have systems with tens of thousands of screens. So from small businesses to the largest users of screens LiveSpace will scale to suit your requirements.
LiveSpace digital signage is a great way to advertise your business, share your successes and broadcast the great things you do. Big data and real-time communication are our specialty but whether you operate within the B2B or B2C sectors LiveSpace digital signage is the smart solution that fits your business.